Ethical Management
Oneness Biotech continues to adhere to the company's operating principles and uphold good business integrity. From top management to the entry level employees, from the operation management to the daily business processing, it has high standards of self-requirement, and achieves ethical corporate management. In 2020, there were no incidents of corruption, bribery or the endangering of customer privacy.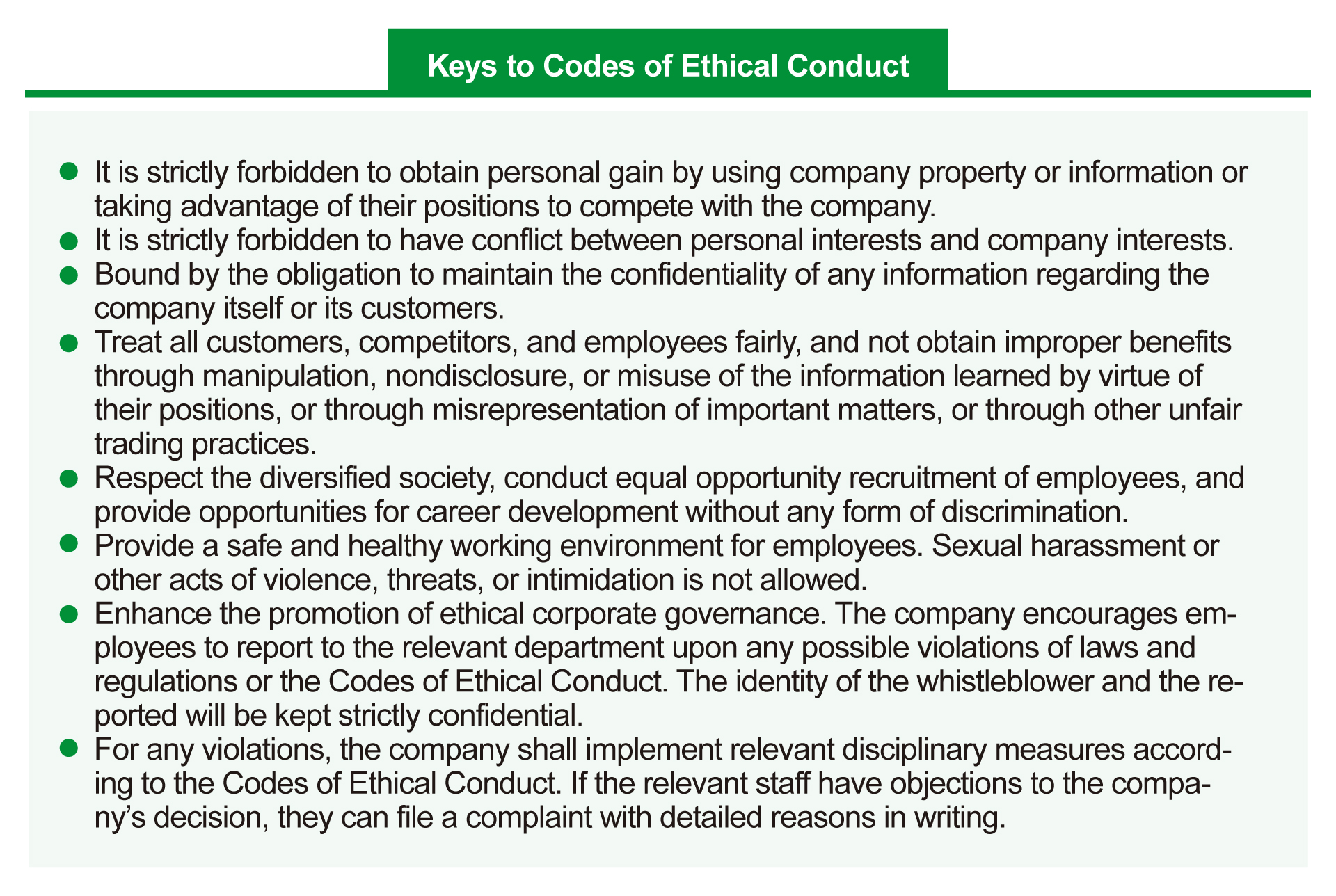 ---
Whistleblowing Regulations
Oneness Biotech formulated the "Whistleblowing Regulations" to provide internal and external personnel with whistleblowing channels for reporting violations of laws, Codes of Ethical Conduct, or Ethical Corporate Management Best Practice Principles. When a company employee or outsider discovers any instance of an illegal behavior, violation of company policy, system or Codes of Ethical Conduct, or damage to company rights, such as fraud, embezzlement of company assets, leakage of company confidential information, collection of improper benefits, etc., the whistleblower may report by letter or email:

Letter: Whistleblowing mailbox, 11F., No. 236, Sec. 4, Xinyi Rd., Da'an Dist., Taipei City 106, Taiwan (R.O.C.)
Email: ONENESS_Audit@onenessbio.com.tw
The company will file an investigation in accordance with the "Whistleblowing Regulations" and promise to protect whistleblowers from dismissal, demotion, salary decrease, and jeopardy to legal or contractual right or any other negative sanction due to the whistleblowing case. At the same time, the company keeps confidential the whistleblower's identity, the subject matter of the whistleblowing case and the investigation procedure. No information identifiable of the whistleblower shall be disclosed.

In addition, the company uses its internal information platform to announce from time to time the relevant content of the Whistleblowing Regulations, and encourage employees to report improper behavior through whistleblowing channels when they suspect or discover violations of laws, regulations, or Codes of Ethical Conduct.
---
Internal Audit
With auditors continuously monitoring the company's implementation of various operating systems, the company has established good governance practices and risk control mechanisms to create a sustainable business environment. In 2020, the Audit Office carried out a total of 93 audit projects, and there were no major non-conformities. All minor non-conformities have been improved within the time frame.
Supplier Management Policy
In 2020, Oneness revised our Supplier Management Procedure, with the goal of jointly implementing corporate social responsibility, and we added anti-corruption, labor, human rights, and environmental protection-related regulations, and require suppliers to sign the "Supplier Corporate Social Responsibility Commitment Letter" , incorporated the labor rights and interests of the supply chain, environmental protection, occupational safety and health, integrity standards, and anti- corruption into the requirements of supplier evaluation. In 2021, Oneness has completed the signing of commitment from 32 suppliers.