Access to Medicine Strategy and Action
The issue of access-to-medicine has received more and more attention from WHO and international NPOs. Access to Medicine Foundation, an NPO established by a Dutch entrepreneur, has been issuing Access to Medicine Index every 2 years since 2008. Governance of access, research and development, and product delivery are the three major factors in evaluating the actions and performance of top 20 pharmaceutical companies in making medicine more easily accessible, affordable, and acceptable.
Our ultimate goal is to allow patients fairly and easily access to the medicine they need at a reasonable and affordable price. Oneness Biotech has entrusted an international consulting company to cope with the pricing of prescription drugs. The optimal global price will be determined through evaluation of the recommendation of insurance companies in major markets and medical professionals. Once the new drug is launched in the market, we establish appropriate local pricing based on the GDP and income of the target country.
Access to Medicine Strategy- Donation Plan
Oneness Biotech has published a "Low-income Diabetic Medical Aid Plan" to provide FESPIXON® cream to low-income diabetic for free to help them treat diabetic foot ulcer. In 2021, six low-income patients were subsidized. By the end of 2022, a total of seventeen low-income patients have been subsidized.
Early Access Program
After FESPIXON® cream was launched in Taiwan, Oneness Biotech has cooperated with an international consulting company to initiate the Early Access Program for FESPIXON® cream in Europe, the UK, Latin America, the Middle East and North Africa (MENA) where FESPIXON® cream is not yet commercially available.
We partner with pharmacies near major medical centers to set up the DFU Care Network in order to provide the guidelines for care of diabetic foot ulcers, V.I.P.D.F., and the latest medical information (DFU Care Network: www.dfu.com.tw). As of April 2023, there were 626 pharmacies joined the network.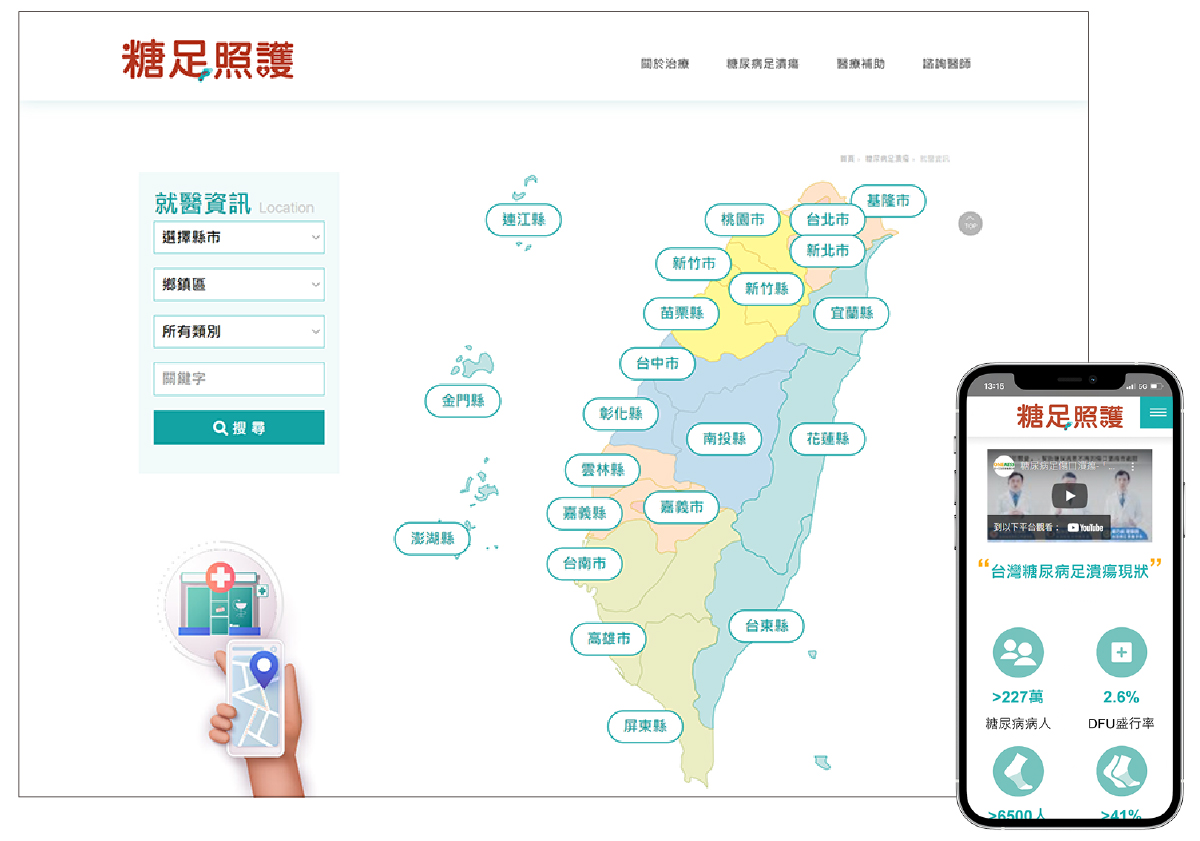 Social Welfare Video for Public Health Education
Through cooperating with Taiwan Society for Burn Injuries and Wound Healing, Taiwan Society for Wound Care, and Taiwan Society of Plastic Surgery, Oneness Biotech produces the social welfare videos for public health education: "What is Diabetic Foot Ulcer", "Spreading Care and Love for Feet", and "Diabetic Foot Ulcer Management." These videos are aimed to draw more attention from the public and patients to diabetic foot ulcers, and to encourage them to check their feet frequently and receive medical aid timely if ulcer occurs. We intend to expand the influence in the society, increase the health knowledge of patients, and protect the patients' right to access medicine.
Oneness Social Welfare Video: www.onenessbio.com/en/esg-page.php
Participation in External Associations
The research and development of new drugs is a highly regulated and supervised industry characterized by dramatic changes and uncertainties. In addition to its business operations, Oneness Biotech actively participates in external associations in order to gain better understanding of the latest industry trends, legal developments, and positive interactions with competitors in the same industry.
---
Public Welfare Activities
Oneness Biotech Integrates Community Care Investment into the Core Business (Unit: NTD thousand)
Interaction with Communities
Cotton Field Organic Farm organizes community activities to provide opportunities for children to know local agricultural specialties. Children can closely observe plants and learn through interesting activities. The food and farming concept is deeply rooted in their minds.
---
Political Donation
"Ethical Corporate Management Best Practice Principles" and "Procedures for Ethical Management and Guidelines for Conduct" are established and published in our website (www.onenessbio.com/en/investor3_15_0_0.htm). The details are described as below:
Any illegal political donation or contribution is prohibited (Article 7 of "Ethical Corporate Management Best Practice Principles").
When directly or indirectly offering a donation to political parties or organizations or individuals participating in political activities, the Company and its directors, managerial officers, employees, mandataries, and substantial controllers, shall comply with the Political Donations Act and the relevant internal procedures, and shall not make such donations in exchange for commercial gains or business advantages. (Article 11 of "Ethical Corporate Management Best Practice Principles"). Any political donation shall be offered in accordance with regulations (Article 21 of "Ethical Corporate Management Best Practice Principles").
Any personnel of the Company is prohibited from, in the course of their duties, directly or indirectly providing any "benefits", which include any money, endowment, gift, commission, position, service, preferential treatment, rebate, facilitating payment, entertainment, dining, or any other item of value in whatever form or name to public servants, political candidates, party members in exchange for interest gains or protection (Article 3 and 4 of "Procedures for Ethical Management and Guidelines for Conduct").

※The above content is taken from the ESG Report